Local Community Information
At Woodhill Primary School we are very proud of our community and how fantastically we all work together to make our local area so wonderful. We are pleased to share any local community information on this page.
If you have anything you would like to contribute and share with our local community, please do email us info@woodhill.greenwich.sch.uk with all details, thank you very much.
Royal Greenwich Face to Face advice hubs
Face-to-face advice is available for Royal Greenwich residents at our outreach advice hubs. Participating organisations are Welfare Rights Service (for benefits advice), Citizens Advice (for debt and generalist advice), Plumstead Law Centre (for immigration advice) and Greenwich Housing Rights (for housing advice).
Advisers are also available to assist residents needing help to apply for the £150 or £65 Energy Rebate payment. If you need help to apply, please visit one of the advice hubs listed in the table below, they are all drop-in support, so you can just turn up. You will need to ensure you take a copy of a bank statement so that it can be uploaded.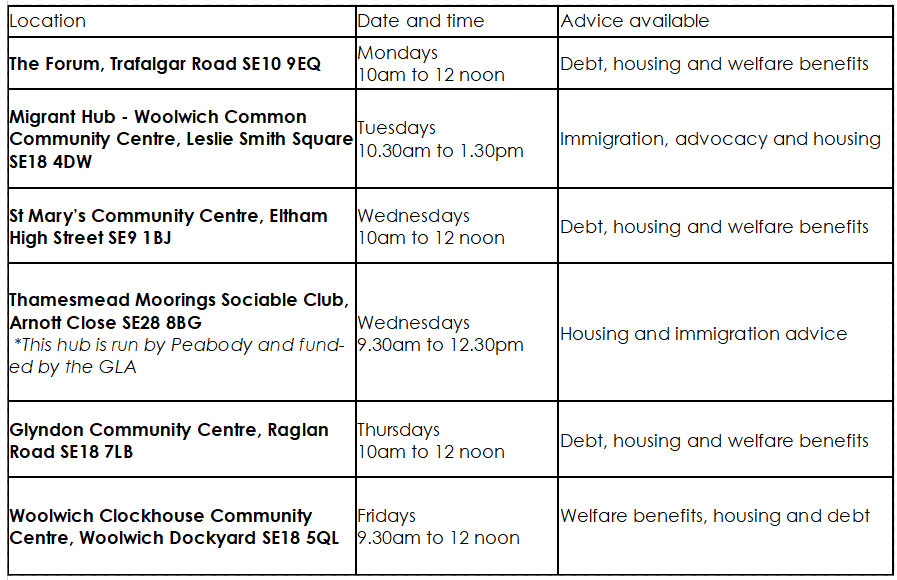 Greenwich Safeguarding Children

Greenwich Safeguarding Children Partnership has some fantastic resources for help in the community. Their website brings together information for children, young people parents, carers, volunteers and professionals.
Please visit their website for further information.
As a parent, carer or trusted adult, you play an important role in protecting children from abuse and neglect and helping children to grow up into confident, healthy and happy adults.
Most children generally enjoy happy childhood experiences within their own family. Unfortunately for some, this is not the case. During difficult family times, everyone must do the best they can to protect children from harm.
Here you will find information on keeping children and young people safe and where you can go when you need further information or support.
What do you if you're worried about a child
This week they have some very important advice for safer sleep for babies.
Safer Sleep for babies—a guide for parents
Homestart Greenwich
Home-Start Greenwich
Home-Start Greenwich is an independent charity affiliated to Home-start UK that has been offering support and helping families with young children in the Royal Borough of Greenwich for over 25 years.
At the heart of our work is the home visiting volunteer support whereby we support families with young children where parenting begins in the home. We do this via a 1 :1 Home-Visiting Service, delivered by volunteers offering weekly support to families in their own homes.
We have two Ofsted registered nursery settings supporting parents with quality childcare jointly providing 96 places for children 0 to 5 in the Woolwich area.
Our services are complemented by our partnership work with Royal Greenwich delivering children centre services from seven settings.
Home-Start Greenwich Strategy 2021-25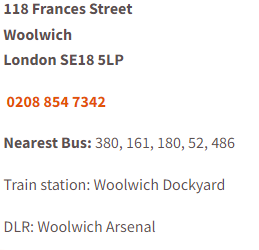 https://homestartgreenwich.org.uk/cardwell-childrens-centre/
Free Meals for children in the holidays
Free lunches are available for school children during May half-term.
Pick up a healthy packed lunch from libraries and leisure centres on Monday, Tuesday and Wednesday during the break. Simply turn up and tuck in, there's no need to register beforehand.
Kids can pick from a selection of sandwiches, fruit and drinks – there's something for everyone's taste.
For a full list of locations and serving times visit royalgreenwich.gov.uk/holidaymeals or see the table below.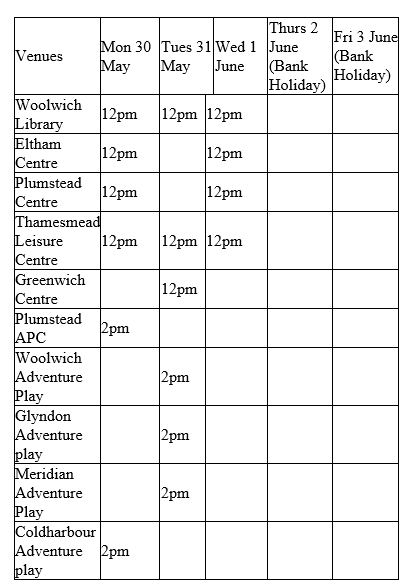 Local teams and clubs to join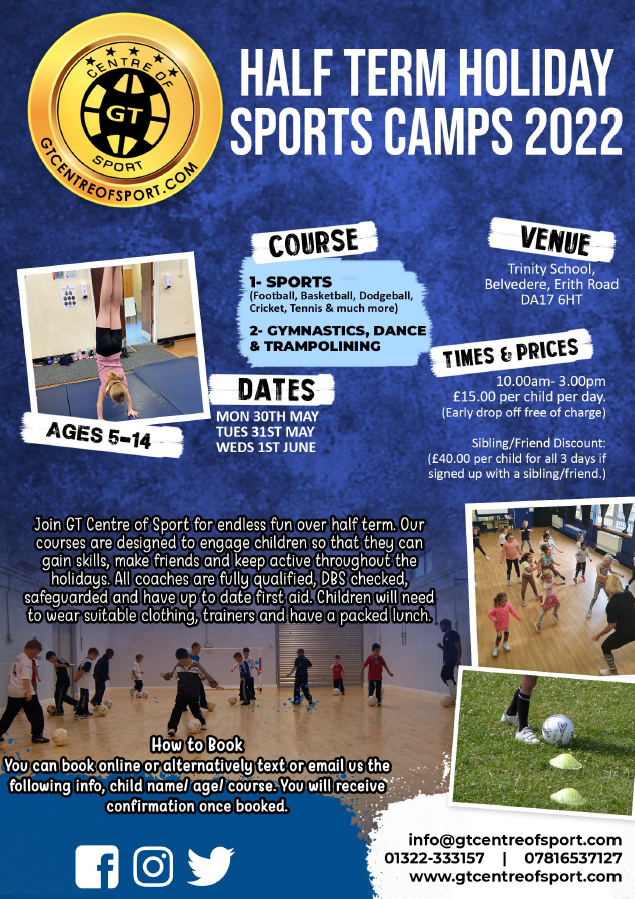 Food Bank
Find a Food Bank - The Trussell Trust
https://www.trusselltrust.org/get-help/find-
Food banks are grassroots, community organisations aimed at supporting people who cannot afford the essentials in life. If you are in financial crisis and live in England or Wales, please call our confidential free helpline on 0808 208 2138 (open Monday to Friday, 9am–5pm)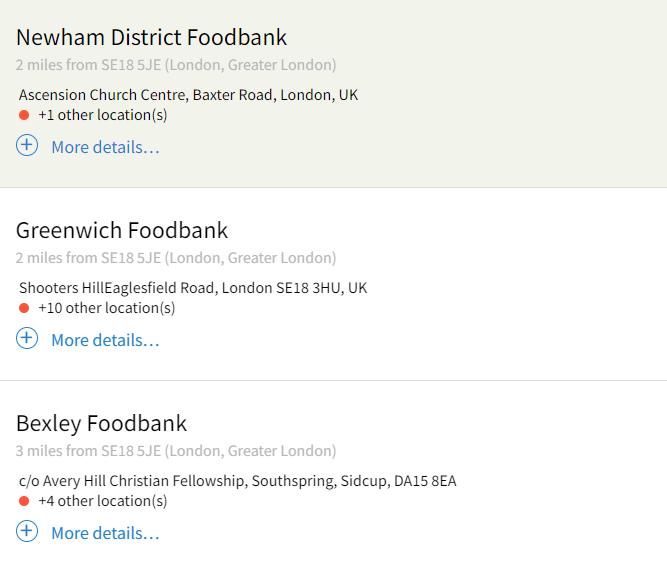 Clockhouse Community Centre
The Clock house Community Centre has been an active Community Centre in the Woolwich Riverside Ward for many years. It is a central hub of the local community providing affordable hall and room hires for leisure, sports and arts activities for 70 regular affiliated community groups and venues for training, meetings and private functions.
Clockhouse Cafe
Open Monday - Thursday
9am - 3pm
Now offering buffet lunches for meetings and training events (Internally and Externally)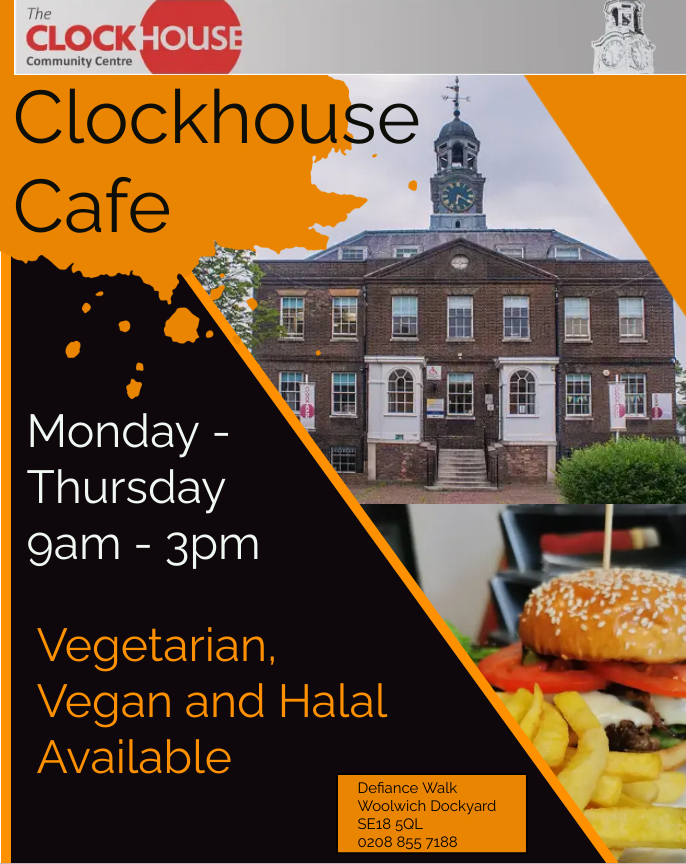 Free Food Hub Collection
Fridays 1pm - 3pm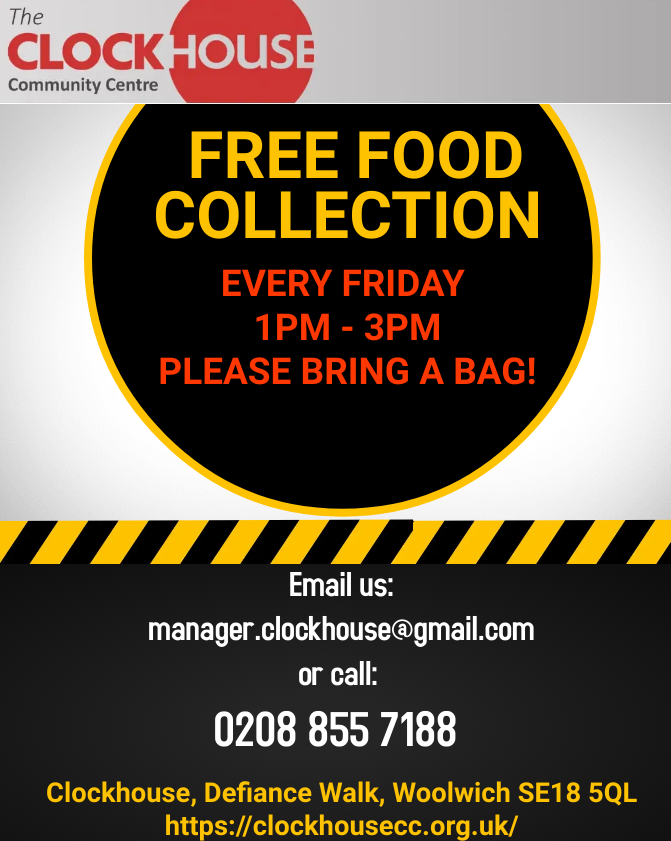 Face to Face Advice Hub
Every Friday 9.30 - 12.30pm - no appointment needed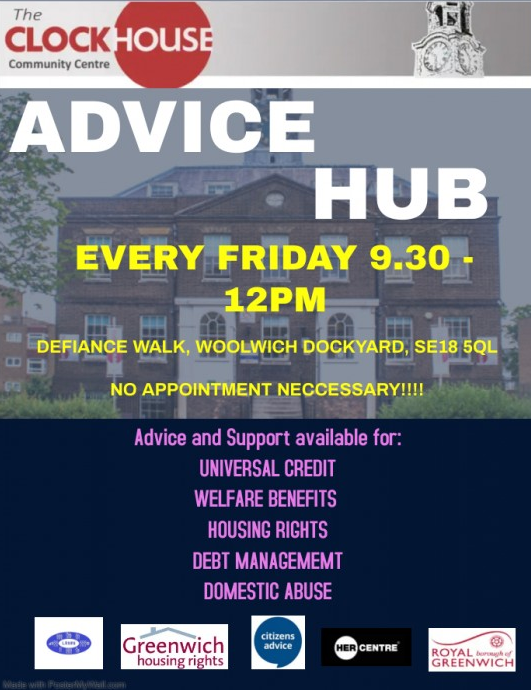 Black Swimming Association
The Black Swimming Association (BSA) and AKD solutions www.akdsolutions.com are excited to announce their biggest pioneering research to date! 95% of Black adults and 93% of Asian adults do not swim. The World Health Organisation has said ethnic minorities are more likely to drown, this is alarming. BSA wants to improve water safety and remove barriers that stand between ethnic minorities and aquatics.

AKD solutions are looking for Black and Asian adults (18years old and over to);
• Take part by completing this SHORT survey telling us why you swim or do not swim
• Or join a Forum in your local area sharing your swim story and listen to other's experience.

Take part. Spread the word. Impact the aquatic industry.
www.ourswimstory.com
Community Support Websites
Her Centre To engage, enable and empower women to move away from abuse, and to move forward with their lives Please Note: We are still giving support by phone throughout lockdown, please ring us at 0203 260 7772.
Mums Aid is an award-winning charity providing pregnant women and new mums with specialist counselling for emotional or mental health difficulties. Our vision is of a society where all mothers are supported with giving their babies the best start in life.
Army Families
Army families will be invited to targeted Groups including Stay and Play and Toddler groups.
Mama Be Kind Blog. mental health. Body Image and Mental Health
CACT - About Charlton Athletic Community Trust
CACT is an independent charity reliant on public support to deliver its work in communities across London and South East England. Time and money spent getting people healthy, putting young people on employment pathways, promoting equality or providing support to those who need it most benefits the whole community.
https://www.bouncebackproject.com/
Bounce Back | No Going Back - Bounce Back | Bounce Back
https://www.bouncebackproject.com/ngb
Welcome to No Going Back, a unique Livery Company initiative supporting offender rehabilitation "People sometimes overcomplicate what it takes to help someone out of a life of crime and imprisonment.
08/09/2020 · Charlton Toy Library is a Registered Charity that serves over 600 families in and around the Greenwich borough. We have an extensive range of books, story-sacks, baby toys, special needs toys, games and puzzles, dressing up, safety and baby equipment. Charlton Toy Library aims to promote the principle that play does matter for the developing child
Little Village is like a foodbank, but for clothes, toys and equipment for babies and children up to the age of five. Find out more about us here If you need support from Little Village, you'll need a referral from a professional. Please click below for more information.
The Clock house Community Centre has been an active Community Centre in the Woolwich Riverside Ward for many years. It is a central hub of the local community providing affordable hall and room hires for leisure, sports and arts activities for 70 regular affiliated community groups and venues for training, meetings and private functions.