Local Community Information
At Woodhill Primary School we are very proud of our community and how fantastically we all work together to make our local area so wonderful. We are pleased to share any local community information on this page.
If you have anything you would like to contribute and share with our local community, please do email us info@inspirewoodhill.co.uk with all details, thank you very much.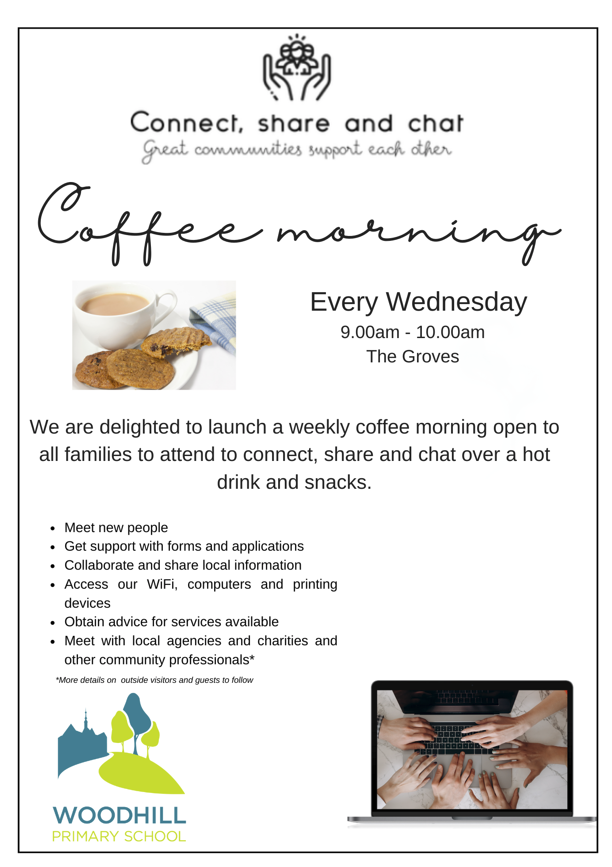 Greenwich Time to Talk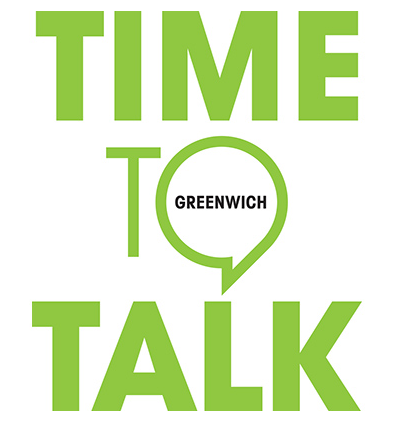 Greenwich Time to Talk
There are times when everyone feels stressed or unhappy. Generally these bad times pass, but sometimes there are problems that do not go away and things get harder and harder. One in four people can feel this way at some point in their life.

Talking about your problems can really help.

Time to Talk is part of a national programme called Improving Access to Psychological Therapies (IAPT). It is for people with mild problems of anxiety or depression who are motivated to work to change the problem.

Our team of therapists are based in Eltham, but can see patients at other centres throughout the borough.

Greenwich Time to Talk offers free psychological treatment as recommended by the National Institute for Health and Clinical Excellence (NICE) guidelines for anxiety and depression. This is mainly cognitive behaviour therapy (CBT) and counselling. We can help you learn ways to help yourself so that you feel more able to cope with your problems.

Greenwich Time to Talk offers support for people over 16 and we have no upper age limit. We also provide a specific service for 16 and 17 year olds.
These services are only for people who live in the Greenwich borough.

Guided self-help, cognitive behavioural therapy and sometimes medication may help you to manage anxiety or stress better. Depending on your circumstances, you may benefit from one of these types of treatment or a combination.
Oxleas Mental Health Crisis line

Having a mental health crisis means different things to different people. If you feel you are experiencing a crisis and you are unable to access support from your GP or other services Call 0800 3308590 to speak to our crisis line for patients and carers. The crisis line runs twenty four hours a day, seven days a week.
Contact us
Opening times: 8am to 8pm (Mon-Thurs)
and 8am - 5pm on Friday.
Floors 1 and 2
135-143 Eltham High Street
Eltham
London SE9 1TJ

Public phone number: 020 3260 1100

Email address: oxl-tr.greenwichtimetotalk@nhs.net
Live Well Greenwich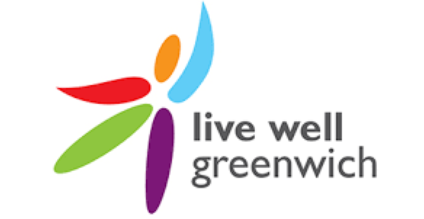 https://livewellgreenwich.org.uk/
Helping everyone to Live Well in Greenwich
Explore our site for local information, events and support to look after your health and wellbeing, or call the Live Well Greenwich line to speak to a friendly advisor.

Royal Greenwich Face to Face advice hubs
Advice Hubs
The Royal Borough of Greenwich is funding the rollout of three advice hubs at community centres in East Greenwich, Eltham and Glyndon that will offer residents the chance to get free face-to-face welfare benefits and debt advice, at weekly drop-in sessions.
This scheme is being run in partnership with Citizens Advice, Greenwich Housing Rights, and the Plumstead Community Law Centre.
Location
Date and time
Advice available
The Forum, Trafalgar Road SE10 9EQ

Mondays
10am to 12 noon

Debt, welfare benefits, housing and immigration

Migrant Hub - Woolwich Common Community Centre, Leslie Smith Square SE18 4DW

*Co-ordinated by Lewisham Refugee Migrant Network

Tuesdays
10.30am to 1.30pm
Immigration, advocacy and housing
St Mary's Community Centre, Eltham High Street SE9 1BJ
Wednesdays
10am to 12 noon
Debt, welfare benefits and housing

Thamesmead Moorings Sociable Club, Arnott Close SE28 8BG

*This hub is run by Peabody and funded by the Greater London Authority

Wednesdays
9.30am to 12.30pm
Housing and immigration advice
Glyndon Community Centre, Raglan Road SE18 7LB
Thursdays
10am to 12 noon

Debt, welfare benefits, housing and immigration

The Clockhouse Community Centre, Woolwich Dockyard SE18 5QL

*co-ordinated by The Clockhouse

Fridays
9.30am to 12 noon

Welfare benefits, housing, immigration, debt and Her Centre One Stop Shop
New roaming hubs announced
To reach even more people across the borough, we will be taking the Advice Hubs to further locations across the borough.
Location
Date and time
Advice available
Abbey Wood Community Centre, 4 Knee Hill, Abbey Wood, London SE2 0YS

Every first Tuesday of the month: 7 February, 7 March, 4 April

10am to 12noon

Debt, welfare benefits and housing
Greenwich West Community and Arts Centre, 141 Greenwich High Road SE10 8JA

Every second Tuesday of the month: 10 January, 14 February, 12 March, 10 April

10am to 12noon

Debt, welfare benefits and housing
Storkway Children's Centre, Ridgebrook Road SE3 9QX

Every third Tuesday of the month: 17 January, 21 February, 21 March, 17 April

10am to 12noon

Debt, welfare benefits and housing
Coldharbour Community Centre, William Barefoot Drive, Coldharbour Estate, London SE9 3JD

Every third Tuesday of the month: 17 January, 21 February, 21 March, 17 April

2pm to 4pm

Debt, welfare benefits and housing
Middle Park Community Centre, 150 Middle Park Avenue, London SE9 5SD

Every fourth Tuesday of the month: 24 January, 28 February, 28 March, 25 April

10am to 12noon

Debt, welfare benefits and housing
Alternatively, call 020 8921 6375 on Monday, Wednesday and Thursday, from 10am to 1pm.
Or send an online enquiry.
Greenwich Supports - Winter Booklet
The Council have produced a 12 page leaflet which outlines the financial, practical and health and wellbeing support available across the borough.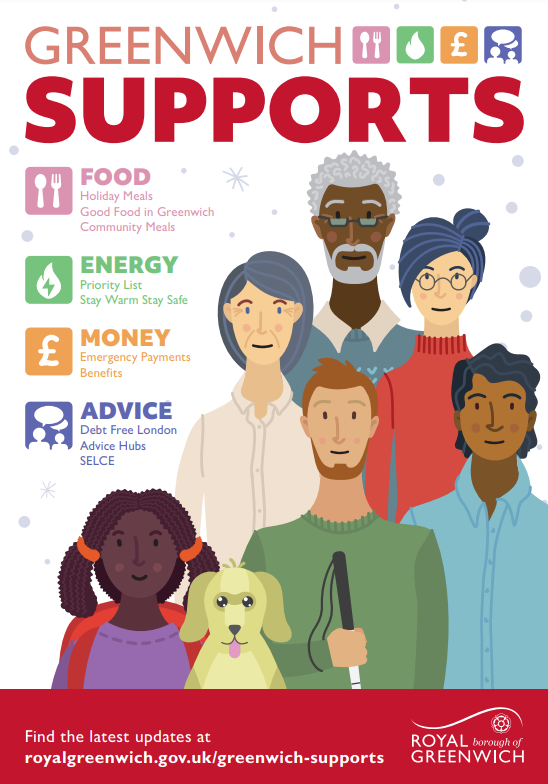 Greenwich Supports - Get help with the cost of living crisis
Greenwich Supports - Warm Spaces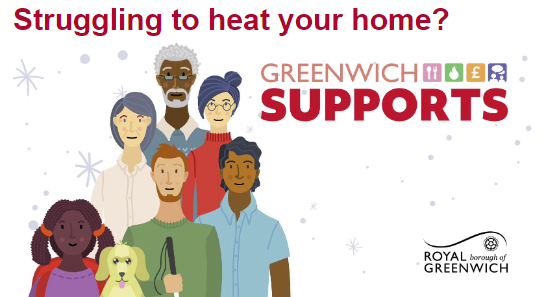 Royal Greenwich has warm spaces across the borough, ready to welcome you inside. Many also offer activities, advice and events to tackle loneliness and isolation. We'll also be on hand to provide advice and support to Stay Warm Stay Safe.
There are locations across the borough which will provide a warm, safe and welcoming location for residents to go during the winter months.
We have categorised provision into the following types:
Front room provision – this is typically a community location, where residents are able to come and relax. Typically comfy seating, hot drinks, and access to wifi would be available. This provision may be available at certain times in the week.

Community activities – this is typically an activity which is available free of charge.

Retail offers – this is typically cafés or food retailers who are offering warm space provision. Meals may be available at discounted or concessionary rates.
Also included in our directory is local and Council-led spaces for advice, events and more.
Take a look at where you can get support across the borough
We are continually adding to the list of warm spaces, so please check back regularly for updates.
Are you an organisation who is providing a warm space?
If your organisation or business is able to provide a warm space for residents, which is safe and welcoming, we'd like to hear from you. Please email cost-of-living@royalgreenwich.gov.uk so that we can understand the details of what you are providing and include it in our directory.
Alternatively, if you are thinking about providing a warm space and want to know more about what this means, we would be happy to talk to you as well. Please email us using the above email address.
https://www.royalgreenwich.gov.uk/warm-spaces?utm_source=e-shot&utm_medium=email&utm_campaign=Residente-bulletinFriday13January
Greenwich Safeguarding Children

Greenwich Safeguarding Children Partnership has some fantastic resources for help in the community. Their website brings together information for children, young people parents, carers, volunteers and professionals.
Please visit their website for further information.
As a parent, carer or trusted adult, you play an important role in protecting children from abuse and neglect and helping children to grow up into confident, healthy and happy adults.
Most children generally enjoy happy childhood experiences within their own family. Unfortunately for some, this is not the case. During difficult family times, everyone must do the best they can to protect children from harm.
Here you will find information on keeping children and young people safe and where you can go when you need further information or support.
What do you if you're worried about a child
This week they have some very important advice for safer sleep for babies.
Safer Sleep for babies—a guide for parents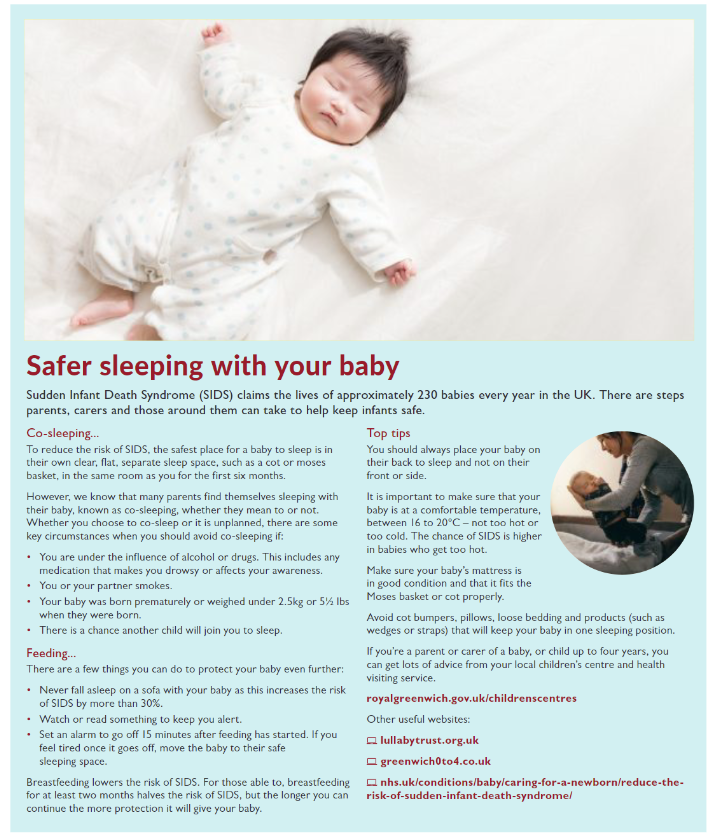 Homestart Greenwich
Home-Start Greenwich
Home-Start Greenwich is an independent charity affiliated to Home-start UK that has been offering support and helping families with young children in the Royal Borough of Greenwich for over 25 years.
At the heart of our work is the home visiting volunteer support whereby we support families with young children where parenting begins in the home. We do this via a 1 :1 Home-Visiting Service, delivered by volunteers offering weekly support to families in their own homes.
We have two Ofsted registered nursery settings supporting parents with quality childcare jointly providing 96 places for children 0 to 5 in the Woolwich area.
Our services are complemented by our partnership work with Royal Greenwich delivering children centre services from seven settings.
Home-Start Greenwich Strategy 2021-25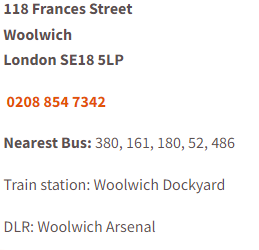 https://homestartgreenwich.org.uk/cardwell-childrens-centre/
Free Meals for children in the holidays
Any child in Royal Greenwich can get a free lunch this half-term as the Council's holiday meal scheme returns to libraries and leisure centres.
Grab a healthy, nutritious packed lunch throughout the week, with no forms or fuss. Just turn up and tuck in!

Serving times vary so check our website for details. www.royalgreenwich.gov.uk/holidaymeals
Local teams and clubs to join
Food Bank
Find a Food Bank - The Trussell Trust
https://www.trusselltrust.org/get-help/find-
Food banks are grassroots, community organisations aimed at supporting people who cannot afford the essentials in life. If you are in financial crisis and live in England or Wales, please call our confidential free helpline on 0808 208 2138 (open Monday to Friday, 9am–5pm)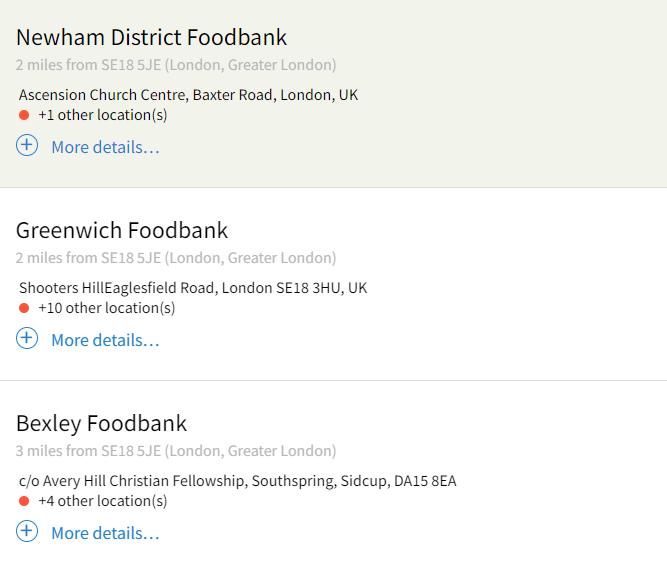 Clockhouse Community Centre
The Clock house Community Centre has been an active Community Centre in the Woolwich Riverside Ward for many years. It is a central hub of the local community providing affordable hall and room hires for leisure, sports and arts activities for 70 regular affiliated community groups and venues for training, meetings and private functions.
Clockhouse Cafe
Open Monday - Thursday
9am - 3pm
Now offering buffet lunches for meetings and training events (Internally and Externally)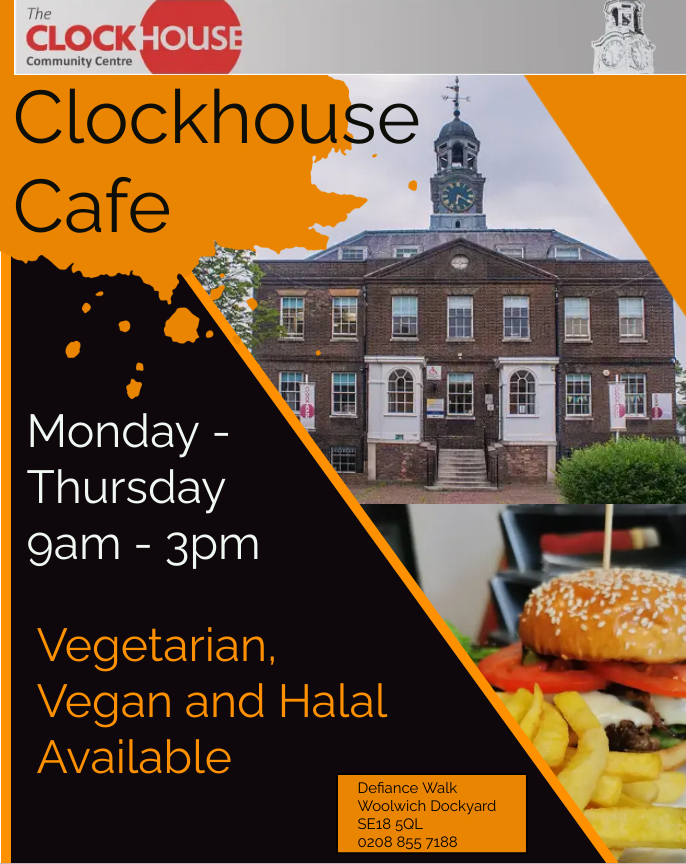 Free Food Hub Collection
Fridays 1pm - 3pm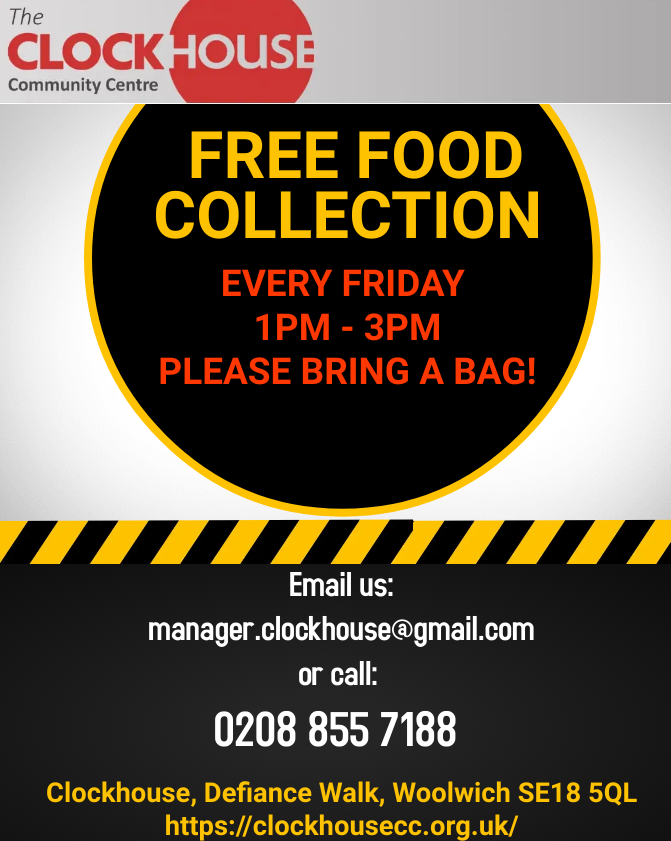 Face to Face Advice Hub
Every Friday 9.30 - 12.30pm - no appointment needed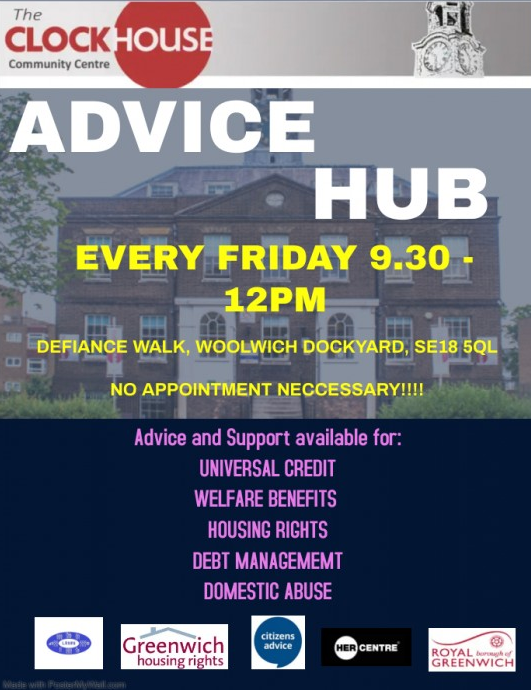 Financial Wellbeing
Find out what support is available to help you and your family get through the cost of living crisis.
Let us know if you're in financial difficulty
We know that many families are going through tough times, and we want to do everything we can to help you and your child. If you are struggling with your finances, please get in touch to let us know, as there may be things we can suggest which will help.
Check if your child is entitled to free school meals (FSM)
If your child is eligible for FSM you need to get them registered. This will allow them to get a free meal at school, and we'll get extra funding (known as the pupil premium) to support your child's learning.
Go to this government website to check if your child is eligible. If they are, or if you're not sure, please contact the School Office, and we can help you check.
Check you are paying the right amount of tax
Make sure you're on the right tax code. If you aren't you might be due a refund. Use the Money Saving Expert's free tax code calculator to find out.
Claim any benefits you're entitled to
Use 1 of these benefits calculators to determine whether there are any benefits you could be claiming:
Support for migrant families – use this calculator if you are a migrant family, or if you have no recourse to public funds (meaning you're not entitled to the majority of welfare benefits)
You may be able to get benefits paid early if you need cash urgently – this is known as 'a short-term benefit advance'. You will need to contact the Department for Work and Pensions (DWP) office.
Check you've received all the government's cost-of-living payments
The government's cost-of-living payments are available for those receiving certain benefits or tax credits. You don't need to apply for these – if you're eligible the money should go straight into your account.
If you think you're due a payment but haven't received one, report a missing payment to the government here.
Be aware of scams! If you receive any emails, texts or phone calls asking you to fill in an application form or asking for your bank details to receive a cost-of-living payment, do not talk to them or send a reply. Get more information on cost-of-living scams on the Money Saving Expert's website.
Find out what help you can get with your energy bills
Take a look at these resources from the British Gas Energy Trust and the Money Saving Expert.
Further Information
MoneyHelper provides free and impartial money guidance and debt advice, online and by telephone. It can also help improve your finances with tools and calculators that help you keep track and plan ahead. Call 0800 011 3797 or visit moneyhelper.org.uk for more information.

Debt Free London offers free advice at the Forum in Greenwich, between 10am and 5pm, Monday to Friday. Call 0800 808 5700 or visit https://debtfree.london/find-advice-centre/debt-free-london-greenwich for more information.

The Mayor of London's Cost of Living Hub offers help, advice and information to Londoners who find themselves in financial difficulty
https://www.london.gov.uk/what-we-do/communities/help-cost-living

Clockhouse Community Centre offers an advice hub between 9.30am and 12pm every Friday:
https://clockhousecc.org.uk/

The Open University has joined forces with MoneySavingExpert (MSE) to produce a free course to give people the skills and knowledge to master their finances. The course was written by The OU, with MSE providing support and guidance:
Visit the Open University website to learn more.
Contact StepChange for debt advice
Contact Shelter if you're having issues related to housing
Contact the Salvation Army for emergency assistance
See if you're eligible for grants from Turn2us
Single parents can get support from Gingerbread
Black Swimming Association
The Black Swimming Association (BSA) and AKD solutions www.akdsolutions.com are excited to announce their biggest pioneering research to date! 95% of Black adults and 93% of Asian adults do not swim. The World Health Organisation has said ethnic minorities are more likely to drown, this is alarming. BSA wants to improve water safety and remove barriers that stand between ethnic minorities and aquatics.

AKD solutions are looking for Black and Asian adults (18years old and over to);
• Take part by completing this SHORT survey telling us why you swim or do not swim
• Or join a Forum in your local area sharing your swim story and listen to other's experience.

Take part. Spread the word. Impact the aquatic industry.
www.ourswimstory.com
Community Support Websites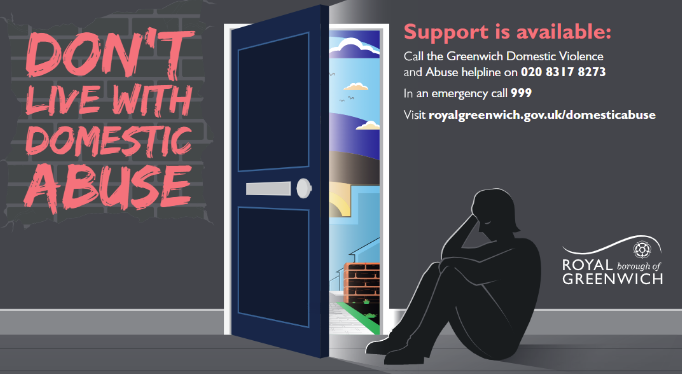 Her Centre To engage, enable and empower women to move away from abuse, and to move forward with their lives Please Note: We are still giving support by phone please ring us at 0203 260 7772.
Mums Aid is an award-winning charity providing pregnant women and new mums with specialist counselling for emotional or mental health difficulties. Our vision is of a society where all mothers are supported with giving their babies the best start in life.
Army Families
Army families will be invited to targeted Groups including Stay and Play and Toddler groups.
Mama Be Kind Blog. mental health. Body Image and Mental Health
CACT - About Charlton Athletic Community Trust
CACT is an independent charity reliant on public support to deliver its work in communities across London and South East England. Time and money spent getting people healthy, putting young people on employment pathways, promoting equality or providing support to those who need it most benefits the whole community.
https://www.bouncebackproject.com/
Bounce Back | No Going Back - Bounce Back | Bounce Back
https://www.bouncebackproject.com/ngb
Welcome to No Going Back, a unique Livery Company initiative supporting offender rehabilitation "People sometimes overcomplicate what it takes to help someone out of a life of crime and imprisonment.
08/09/2020 · Charlton Toy Library is a Registered Charity that serves over 600 families in and around the Greenwich borough. We have an extensive range of books, story-sacks, baby toys, special needs toys, games and puzzles, dressing up, safety and baby equipment. Charlton Toy Library aims to promote the principle that play does matter for the developing child
Little Village is like a foodbank, but for clothes, toys and equipment for babies and children up to the age of five. Find out more about us here If you need support from Little Village, you'll need a referral from a professional. Please click below for more information.
The Clock house Community Centre has been an active Community Centre in the Woolwich Riverside Ward for many years. It is a central hub of the local community providing affordable hall and room hires for leisure, sports and arts activities for 70 regular affiliated community groups and venues for training, meetings and private functions.
Good Food in Greenwich
Good Food in Greenwich is all about bringing together people and organisations to help make Greenwich a fairer, healthier, and more sustainable borough.
​The partnership addresses a wide range of issues including promoting sustainable and healthy food, tackling food poverty, building community skills, creating a thriving food economy, ensuring better food is bought in public settings, and tackling food waste and the impact on the environment.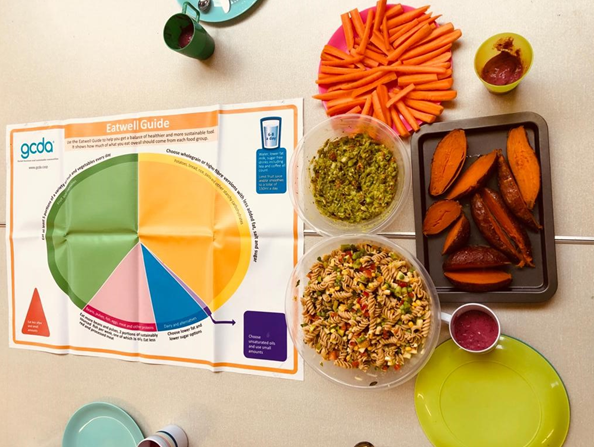 Eat well for less, meet new people, learn fresh skills!
GCDA runs FREE 5-week face to face cooking sessions.
Participants receive a FREE cookery book upon completion! Please email info@goodfoodingreenwich.org.uk to sign up !
General Advice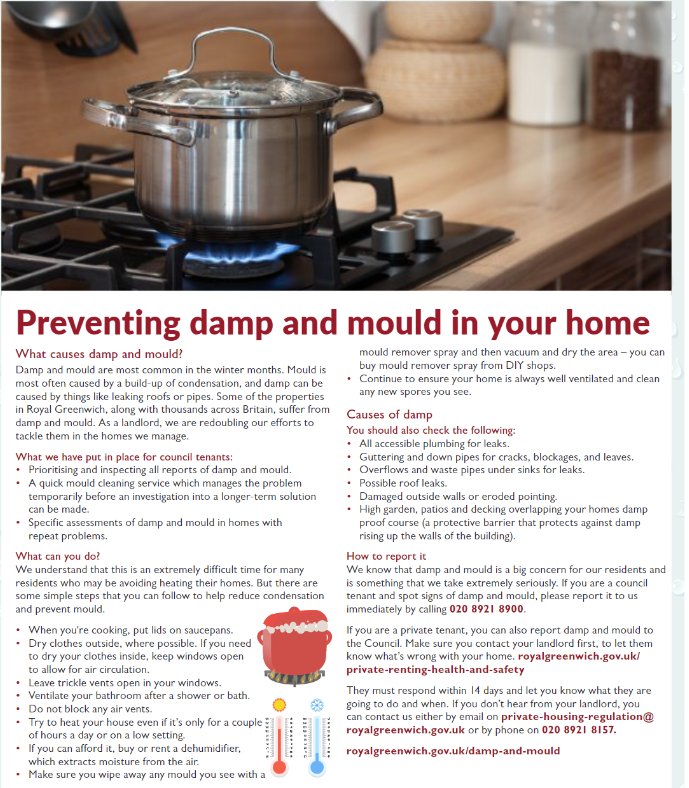 10 things to do at home
We found this article in the Primary Times that gives you some fun ideas to pass the time at home for very little, if any cost at all.
1. Build a fort and have a pyjama day
A great way to keep cosy in the colder months is to gather all of your cushions and warm blankets and set up on the sofa - a fort can be fun to build, and it holds the heat inside if you make the roof with a bigger blanket. Use some tall chairs or furniture if you need to, to get it to hold together, and you can all squeeze in and relax in your PJs!
2. Have a movie night with popcorn
Get the family all together indoors for a film night with some sweets and snacks or your popcorn flavour of choice! Whether it's a comedy, adventure, or a classic family film, you're sure to have a fabulous time.
3. Bake a warming recipe
Why not try your hand at baking a new receipt? It's a lovely way of getting everybody involved and you can bake something yummy that everyone can enjoy. A berry pie or a tasty apple crumble are always strong contenders in the winter months.
4. Read a new book or play a new video game
If you find yourself with some free time, try reading a new book or giving that new video game a try that you might have got for Christmas or your birthday. These are activities you can do together as a family to unwind or to relax and pass the time.
5. Get Creative!
A fantastic group activity to spark the imagination and get everyone's creative juices flowing is always a good idea. Have a go at scrapbooking or journaling together, or even drawing, colouring or painting and see what lovely artwork you can create.
6. Have an indoor dance party
Hosting an indoor dance party is a wonderful way to spend an afternoon. Gather some friends or family and play musical statues, or pick a theme and make a playlist together to have a boogie to for a feel-good day.
7. Create your own delicious hot chocolate recipe
The best hot chocolate is exactly how you like it. Do you prefer milk chocolate or white chocolate? Maybe chocolate-orange flavoured or mint is the winner? Cream, marshmallows or chocolate sprinkles. Try a few different recipes and see which one you like the best.
8. A board game evening with friends
Get competitive and bring the board games out for the day. See if you can get everybody together to play your favourite games and maybe even create your own tournament! The winner gets to pick what you watch on the TV that night, for example.
9. A dress up day and play
Having a sort through your fancy dress wardrobes or playing dress up in old costumes / parents clothes can be entertaining and enjoyable. Have a fashion show in the house. You never know you might find a great outfit or costume that has been completely forgotten about!
10. Learn something new
Why not try to spend a day learning something new? Whether it is a new skill, game, or song being mastered, learning to cook a new recipe together, or writing a poem or practising a musical instrument, the sense of achievement will definitely be worth it afterwards.
Free Mobile Sim cards for low-income household
The Royal Borough of Greenwich, in partnership with Better, has joined a national scheme to provide 7,200 free mobile sims to residents.
Thanks to Good Things Foundation, Better, which runs libraries across Royal Greenwich on the Council's behalf, will be issuing sim cards to eligible residents through Greenwich Supports, the Council's cost of living campaign.
Cllr Ivis Williams, Cabinet Member for Finance, Resources and Social Value said: "Homes across the UK have struggled to pay TV, internet and phone bills in the last year, with some having to cancel services to afford essentials such as food and fuel bills.
"This is something that has been reflected locally, with residents telling us in our cost of living survey that they are cutting back on mobile and broadband payments, entertainment subscriptions and leisure activities due to rising costs.
"This is an incredible partnership we are proud to be a part of, offering a lifeline when our residents need it the most."
Cllr Adel Kharieh, Cabinet Member for Equality, Culture and Communities said: "Initiatives like this ensure that everyone gets digital access to contact the Council and learn about support in their local community, no matter their finances. Beyond that, it allows residents to pay bills online and contact loved ones when they feel isolated.
"We already offer a wide range of free services spanning from WI-FI, PC and printer access to social and educational activities. And from Monday 13 February, there will be another great reason to visit our libraries."
Paul Drumm, Better's Partnership Manager for libraries, added: "Libraries are at the very heart of our communities and we are acutely aware of the challenges many residents are facing.
"This winter our libraries are also warm and welcoming spaces providing refuge for anyone who would like to spend time using our facilities or enjoying a hot drink.
"The free sim card scheme will build on this and help us ensure that no-one in the local community becomes digitally excluded."
Good Things Foundation has provided 7,200 free sim cards for Royal Greenwich residents.
To be eligible for a sim-card, you must be:
over the age of 18
from a low-income household
And match at least one of the following:
Have no access or insufficient access to the internet
Unable to afford your existing monthly contract or top up
Be in receipt of benefits, both means tested and Universal Credit, Pension Credit, Housing Benefit and Jobseekers Allowance. (Please bring official proof)
Have been identified by referral partners from Welfare Rights, Live Well Greenwich, Charlton Athletic Community Trust
Three options will be available from Virgin Media 02, Vodafone and Three, all with different packages. No contracts are required, so residents will not be tied in or expected to pay any money towards the keeping the sim open.
All 12 library branches will have a one-hour surgery each week for distribution.
Monday
- Coldharbour Library 2pm to 3pm

Tuesday
- Abbey Wood Library 11am to 12noon
- Slade Centre Library 4pm to 5pm~

Wednesday
- Greenwich Centre Library 2pm to 3pm

Thursday
- Eltham Centre Library 2pm to 3pm
- Charlton Library 5pm to 6pm

Friday
- Blackheath Library 10am to 11am
- Thamesmere Library 10am to 11am
- New Eltham Library 11am to 12noon
- Woolwich Centre Library 2.30pm to 3.30pm

Saturday
- West Greenwich Library 2pm to 3pm

Sunday
- Eltham Centre Library 1pm to 2pm